OUR INSPIRATION
Our Autumn Winter 23 collection

Designed to reflect the ambience of daily life and inspired by our love of vibrant colours. From eco-conscious layers you can wrap yourself up in to everyday dressing, this season has a range of different styles, while keeping to the true Nomads core values.
In five colour stories to take you through the seasons...
OUR TWILIGHT COLLECTION
Vibrant flashes of Kelp amongst delicate crepe dresses with an ethereal Marine print are key to this story. Our new viscose crepe twill fabric gives a more formal feel to these styles, whilst also creating a modern look with the midi dress and the pintuck top. Layer up with our Anemone knitwear for those cosy winter nights.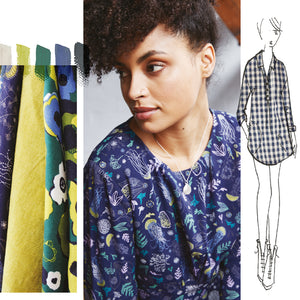 SUNSET HUES
Inspired by exotic fruits and the many vibrant shades of the sunset, this story fills us with warmth. Our new Ikat fabric is as striking as they get in easy styles such as the tie top pinafore which will pop, layered with any of our plain jersey tops.
STRIKING SILHOUETTE
Handlooms are a signature of ours giving that handcrafted feel, and this season is no different with our new Escher handloom which comes in a hooded coat and a modern asymmetrical jacket.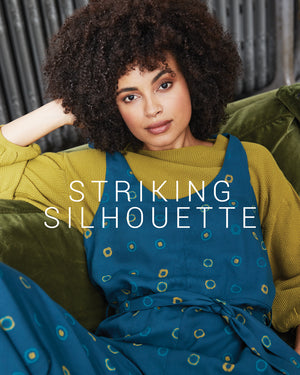 OUR WOODLAND COLLECTION
Cord pieces in these vibrant earthy tones allow versatility in outfit building with the ability to layer both underneath and on top of our pinafores and a shacket is a welcome addition as a mid-season piece.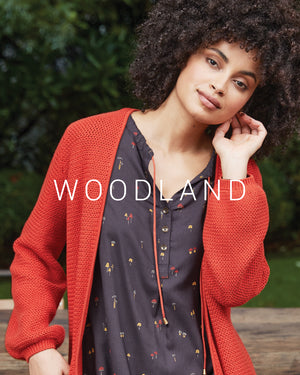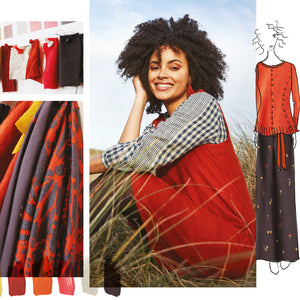 LOUNGEWEAR
Comfort doesn't need to be without style as our latest loungewear range is testament to. Brushed marl jerseys and Organic cotton jerseys create that comforting feel whilst the bold Isla print gives that sense of style you know and love us by.